2013 maran anat phaxsin  20 ur saraqataruw aka Eli Bildner-an qilqt'atax nayr Tea Leaf Nation [1]-n unstäna, ukat wasitat mä amtjam uñicht'ayata.
Niya phisqha siman jalkiptatarxaruxa, Beijing-ax kuntaminasyun uñjäna: jisk'a partikulanakax pulmun usunakas kartyuwaskular usunakas ukat samsuñ usunakas ukjam apanispa, ukat "Organización Mundial de la Salud-an" sataparjamax jan walinakax 30 kutimpiw yapxattawayi.
China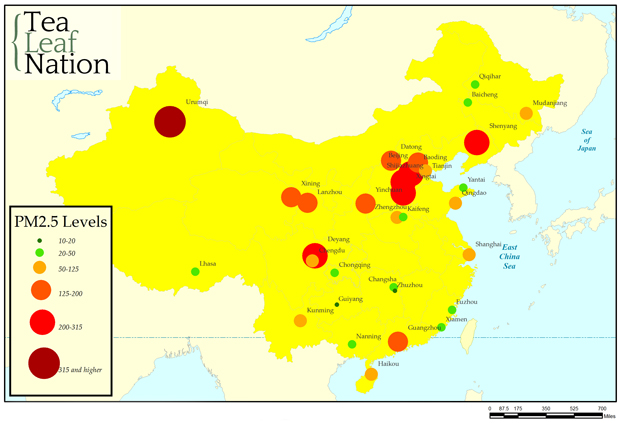 Ukjatxa, China "airpocalypse [2]-t» yatiyäwinakax utjawayi, ukat ukanakax Beijing, Shanghai, Tianjin ukanakat qhanancht'araki.
Ukjamax China-n walja jaqin jach'a markanakax jan walin jikxatasipxi. Sañäni, China-n Machaq Mar Jayp'ux Tianjin-an kuntaminat thayax 577 markäna. Beijing-an Kuwirnu Munisipalax jan anch "fuegos artificiales" ukanak apnaqapxamti satapat aljasiñax 37% ukjaw juk'aruchawayi.
Ukampins China-n kuntaminayunax taqinitak jan waliwa. Pasïr simanax jila kullakanakax 74 markat yatiyapxäna, taqi ukanakan Machaq Mar urux jan walinakaw utjawayi.
Ukat China-n kuntaminasyunax jach'a markanakaruw qhiphaqti. (with a PM2.5 concentration of 511 micrograms per cubic meter, or 20 times the recommended limit).

View China's Most Polluted Cities [3] in a larger map
China-n sinti kuntaminat jach'a markanakapa
1. Xingtai, Hebei
2. Shijiazhuang, Hebei
3. Baoding, Hebei
4. Handan, Hebei
5. Langfang, Hebei
6. Hengshui, Hebei
7. Jinan, Shandong
8. Tangshan, Hebei
9. Beijing
10. Zhengzhou, Henan

View China's Least Polluted Cities [4] in a larger map
China-n juk'a kuntaminat markanakapa:
1. Haikuo, Hainan
2. Fuzhou, Fujian
3. Zhoushan, Zhejiang
4.X iamen, Fujian
5. Huizhou, Gunagdong
6. Zhaoqing, Guangdong
7. Shenzhen, Guangdong
8. Kunming, Yunnan
9. Lhasa, Tibet
10. Zhuhai, Guangdong